If you have been around these parts before you read that I am the least romantic gal, well, ever.  My idea of the perfect date is some form of a Boston sporting event with a beer in hand. While long walks on the beach would be nice it would have nothing to do with the conversation and company, and everything to do with the beach being my happy place. While there have been a few exceptions to this, I just can't wrap my head around the hopeless romantic thing. With that being said, I don't want you to think I don't believe in love and will never find it. I do believe in it and I have found it.
While I think the idea of gifts for Valentine's day is stupid, appreciating the people around us and letting them know we love them definitely is not. Life happens quickly and tomorrow is never promised. If you're one to preach about how much you hate the holiday step back and ask yourself a few questions. Is your family extremely important to you? Would it hurt your heart terribly to lose a friend? Does your puppy make your day? Then you too have found love. Embrace it.
I can only imagine what kind of hateful status' and tweets I will come across on February 14th. Hey, even if you are having a single ladies drinking fest with your girlfriends, at least you're appreciating something or someone(s).
Are you wondering where I'm going with this? Me too, a little bit. A Valentine's checklist. For the hopeless romantic and the hopeless... hopeless.
ONE.
// Chocolate. Whether you're in a relationship, single, married, emotionally damaged or emotionally unavailable (name that movie) buy yourself some chocolate and enjoy every bite. You're welcome.
TWO.
// Tell someone you love that you love them. Mom, Dad, brother, sister, puppy, friend, hairdresser, manicurist.. whatever. Just do it.
THREE.
// Don't say negative things about a holiday other people may enjoy. Gifts though, gifts are stupid.
FOUR.
// Appreciate yourself for wherever you are in life right now and how far you have come. You know, instead of gifts for the people around you,(if you're into that) I think you should treat yourself to something fancy. Yep, buy yourself that Beamer. Or your favorite bottle of wine. Semantics.
FIVE.
// Understand that love is extremely magical and fulfilling. Not having certain people in your life would make you one miserable girl now wouldn't it. So even if it is that single ladies drunk night with your friends, at least you have friends to have single ladies drunk night with.
Happy Valentines day to everyone out there. Have a great day, whatever your situation may be.
Linking up with
Sarah
and
Helene
today!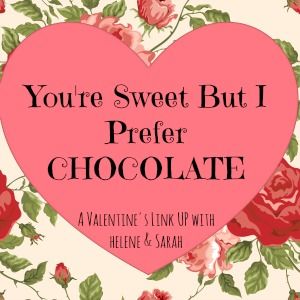 XOXO